Engaging and partnering with local researchers, organizations, and universities is one strategy to help guide the ethical conduct of disaster research.
Especially in cross-cultural or international settings, researchers can become better acquainted with the local context by working with a local partner organization or hiring a local research assistant to help with data collection, translation, sampling, and other research activities. Local researchers are likely to be more familiar with the local culture and can thus enhance cultural competence of the research while providing an insider perspective of the disaster.
​1–3​
Working with local research organizations and universities can also enhance research capacity and feasibility.​3​ However, researchers should be cognizant of who they work with, as using local research assistants may still cross invisible but important political, social, or economic boundaries. For instance, if working in a highly sectarian country, it's possible that a research assistant may be associated with a specific background that the respondent either fears or is hostile towards. This can influence the quality of the data collected and may even raise concerns that the information collected will be used against a particular group.​3​ One strategy to avoid these challenges would be to recruit research assistants that represent a variety of the local political, economic, and/or social categories.
Working with local partners can help bridge cross-cultural boundaries. It is important though that local researchers are treated as equal collaborators or even leaders.​4​ There is a history of unbalanced power in disaster research, with researchers in the Global North dominating research publications despite greater frequency of severe disasters in low- and middle-income countries.​5​ Local researchers tend to be hired as assistants rather than partners in the research, despite their knowledge of the local context.​6​ Equal collaboration with local disaster scholars enhances the quality of data collection while empowering members of the disaster-affected community.
Best Practices for Ethical Community Outreach and Engagement in a Disaster Setting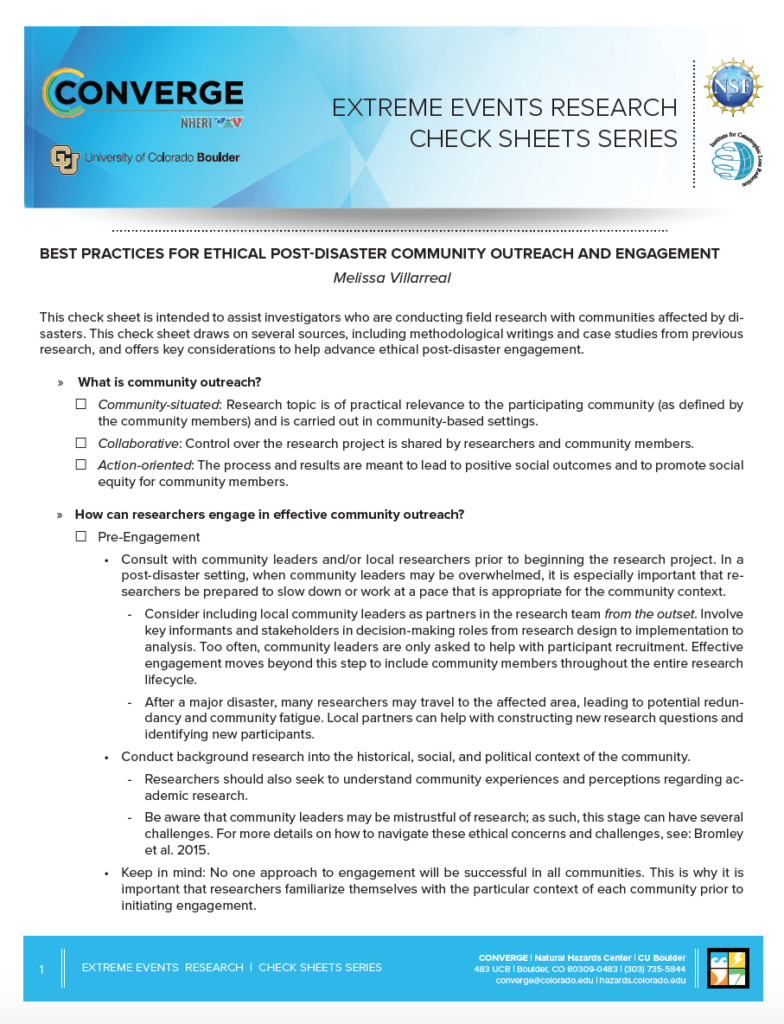 The CONVERGE Extreme Events Research Check Sheets Series is a series of short, graphical tools that are meant to be used as researchers design their studies, prepare to enter the field, conduct field research, and exit the field. As part of this series, the Best Practices for Ethical Post-Disaster Community Outreach and Engagement Check Sheet outlines considerations for engagement with and outreach to disaster-affected communities. The best practices outlined in this document can help disaster researchers to engage ethically with community members throughout the research process—from study design, to data collection, to the return of findings and results. Examples of tips provided in this check sheet include:
Consult with community leaders and/or local researchers prior to beginning the research project;
Conduct background research into the historical, social, and political context of the community; and
Organize regular meetings with community partners for sustained communication and continued relationship building.
1.

Barber K, Haney TJ. The experiential gap in disaster research: Feminist epistemology and the contribution of local affected researchers.

Sociological Spectrum

. 2016;36(2). doi:

10.1080/02732173.2015.1086287

2.

Hamideh S. Opportunities and challenges of public participation in post-disaster recovery planning: Lessons from Galveston, TX. Natural Hazards Review. 2020;21(4):05020009-05020009.

3.

Jacobsen K, Landau LB. The dual imperative in refugee research: Some methodological and ethical considerations in social science research on forced migration.

Disasters

. 2003;27(3). doi:

10.1111/1467-7717.00228

4.

Citraningtyas T, MacDonald E, Herrman H. A second tsunami?: The ethics of coming into communities following disaster. Asian Bioethics Review. 2010;2(2):108-123.

5.

Gaillard J, Gomez C. Post-disaster research: Is there gold worth the rush?

Jàmbá: Journal of Disaster Risk Studies

. 2015;7(1). doi:

10.4102/jamba.v7i1.120